Your machine may already have Quicktime installed ! The easiest way to test is to click here. You should see a picture telling you that Quicktime is installed OK.
If you get garbage on your screen or Netscape asks you to configure a browser, you either have Quicktime (and Netscape is not configured correctly) or you do not have Quicktime at all.
1 - Check You Have Quicktime Installed On Your Machine
To check if you have Quicktime, you need an extension in the extensions folder in your system folder called Quicktime - it looks like this:

If you are lucky emough to have a PowerMac, you will need the Quicktime PowerPlug which should be in the extensions folder as well as Quicktime.
As well as these Extensions (which give your Computer the ability to play movies), you will need an Application Program called MoviePlayer which will actually play the movies for you. It can live anywhere on your Hard Disk, and its icon looks like this:


If you have these 2 (or 3) items on your machine and can still not play movies back from within Netscape, you will need to configure Netscape to use MoviePlayer to play the movies.
If you don't seem to have Quicktime
Quicktime is currently at version 2.1, and is part of the System 7.5 distribution (which you have to pay for). Quicktime 1.6 is publicly available (it will be perfectly adequate for use on this site) - click here to get a copy from us.
2 - Configure Netscape To Play Back Quicktime Movies
Under the Options menu, select Preferences. In the preferences dialog box, select "Helper Applications" in the pop-up menu at the top of the dialog box. You need to add a line that is for video/quicktime. Quickly check that there isn't a line saying that already. If there is, it may be configured incorrectly.
To add the quicktime setup, click new, and enter the information as shown here: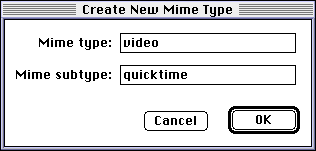 In the extensions field, type in qt,mov (as shown in the picture above). Now click the Browse button and select MoviePlayer (or Movieplayer 2).
That's it ! OK everything and try again
[